The system processes and presents correlations, both numerically and graphically, between values, tendencies, anomalies and ratios in the relationship between the following measures and imposed conditions:
Smoothed time series of the measured parameters (weight, soil water content, atmospheric water demand, etc.).
The rate of change of the above-mentioned parameters over time.
Plants biomass gain along different time intervals (days, weeks, and season).
The pattern of daily transpiration.
The water use efficiency (WUE) along different time intervals (days, weeks, and season).
Soil water content (either by mass balance calculation or direct measurement by a specific sensor).
Stomatal conduction variation along the hours of the day.
Influx from the soil to the roots (when soil sensors are installed).
The variation of the plant's relative water content during the day hours.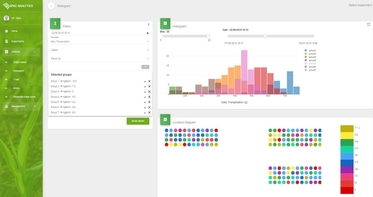 Plant-DiTech's SPAC-Analytics dashboard is web-based software that enables the user to view and analyze online data from every sensor input. The graphical results can be managed from any web browser and over the entire experiment period based on the user's data selection. The selected are then exported with the background data for further work on the user's statistical software. The resolution varies from a single plant through clusters of samples and up to arrays of hundreds of plants. The user has full control over the various groups and individual specimens. For example:
Plant(s)/line(s) select (exclude specific plants)
Parameter(s) select
Date range select
Smoothed/Non-smoothed graphical presentation
Plant-DiTech's SPAC-Analytics provides fast and reliable science, online.