What is SPAC-Analytics?
Plant-DiTech's SPAC (Soil-Plant-Atmosphere-Continuum) Analytics is cloud-based software that performs real-time statistics, analysis and productivity prediction.
SPAC-Analytics enables agro-researchers to process input from multiple sensors and sources, and provide a statistical and graphic representation of any correlations from various growth and productivity traits, together with environmental parameters (stress included). The output is a detailed performance analysis based on advanced statistical tools of the plant population and the treatment responses. The data is retrieved automatically and continuously from large arrays of plant samples over any period of a growth cycle.
The software allows you to run real-time multiple analysis during and following the experiment, using huge amounts of real-time data that are impossible to process manually.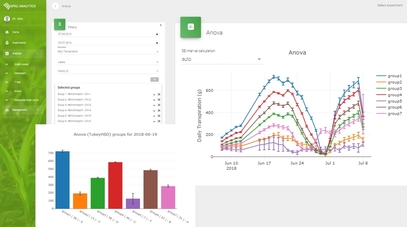 SPAC-analytics key benefits:
Real-time statistical analysis - multi-factorial ANOVA or paired T-test, for reliable and fast results
Reach your goal - optimize experimental parameters during the experiment to make sure of the effectiveness of the treatment when it matters
Fast quantitative selection - produces a performance-based profile for rating and scoring plant physiological response to different environmental needs
Simple graphical presentation of complex experiments - spatial and temporal relationships between measured physiological variables and ambient conditions, showing tendencies, anomalies and ratios