What is Plantarray
Plantarray is a high-throughput, physiological-based, precise phenotyping system that performs SPAC (Soil-Plant-Atmosphere-Continuum) measurements for the whole-plant response to different environments. The system collects data simultaneously from all plants in the array, providing a genuine comparison between plants and their treatments, in an easy to use, not destructive and non-invasive setup.
Plantarray's hardware meets a large variety of growing facilities. It is simple to install, integrated with top of the line sensors and technologies from leading companies (Decagon, Vishay, Baccara, Tefen, Anyload), highly robust (no moving parts, suitable for all plants species), and hardly requires continual technical maintenance.
Plantarray's operating software facilitates:
Simultaneous and continues data collection from all plants in the array
Control and maintenance of each pot soil conditions including soil-water content, salinity

,

and tested chemicals concentration in the growing media
Real-time analysis and presentation for easy experiment control
Plantarray's complementary hardware and software provides meaningful insights to the user about the whole-plant response to physical, chemical, or biological changes in their environment with a clear interpretation of the following quantitative physiological traits (QPT):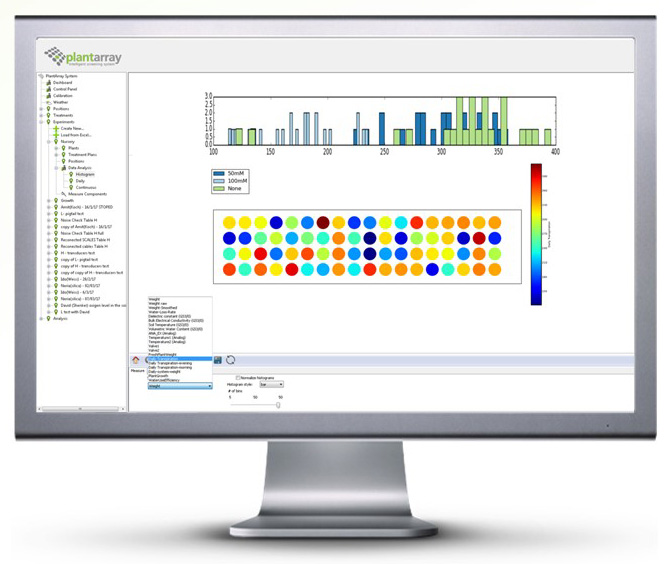 Canopy Stomatal Conductance
Daily Biomass Gain
Daily Transpiration
Water Use Efficiency
Transpiration Rate
Plant Relative Water Content (RWC)
Root Water Fluxes
Drought Critical Point (θcrit)
The product development process drew on the experience of leading academic researchers in the fields of plant physiology, soil and water, genetics and ecology and is confirmed by published studies in leading journals.